When I finally received my log-in credentials in CitisecOnline/COL Financial, I got very excited to explore the system. I immediately wanted to buy stocks but there's one problem, I don't know how.
So here's a simple guide for starters in CitisecOnline/COL Financial system:
How to Buy Stocks
1. Log-in with the user ID and password then go to "Quotes" Tab.
2. Identify the stock code of the company you wanted to invest in.
If you don't know the stock code, you can search it by going to
Quotes Tab > Stock Information > Stock List
. In the Stock List, you can see all the companies listed in the stock market and their corresponding Stock Codes.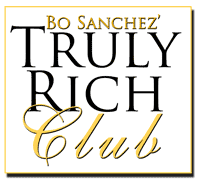 For beginners who don't have any idea on what stocks to buy or what strategy to make (pretty much like me when I started investing in Stock Market), I recommend you to join
Truly Rich Club

.
Truly Rich Club is ran by Bro Bo Sanchez. When you become a member, you will receive stock updates from him. That includes the suggested stocks to buy, when to buy and when to sell. So for beginners and investors who don't have time to do researches on companies, just click on the Truly Rich Club image at the side to join.
3. Input the Stock Code.
Go to
Quotes Tab > Stock Information > Stock
.
Type the Stock Code in the box and click "
BUY
" (located at the side of the "Quote" button).
4. Enter the price and the number of shares you want to buy.
After entering the values, click "
Preview Order
" Button.
5. Review the details of your order.
After clicking the "Preview button, the screen below appears. It shows you the Stock Code, number of shares, price per share and the added charges for the transaction you are making.
Enter your password and click "
Place Buy Order
" if you have no more modifications to make. When a selling order matches your buying order with the price and number of stocks, you will then get your desired stocks.
That concludes our tutorial on how to buy stocks with CitisecOnline/COL Financial system.
Happy Investing!