UPDATED as of 9/13...
Were you not able to exchange your SMDC shares to SMPH shares?
There are a lot of people who have been asking me how they can process their SMDC shares since the tender offer had passed. I haven't experienced this so I really can't share a firsthand experience but I was able to contact a more knowledgeable person and stock market mentor
in the

Truly Rich Club

forum through our "facebook-like" social networking. It's a lot easier to post queries.
I called the numbers given to me by the mentor from
Truly Rich Club
and I was transferred to this number below.
Contact numbers:
+632-840-7000 loc. 32104
I was able to talk to a person named Michelle. Tell her you weren't able to exchange your shares during the tender offer.

Here are the questions I asked her and below are the answers I got from her:

1. Can an SMDC shareholder still tender his/her shares even if the offer has ended?
Answer:
Right now, SM Land Inc. has already acquired their targeted percentage of share. (As far as I can remember they targeted for 95% and they were able to acquire more than that). As of the moment, it is under discussion on whether SM Land Inc. will still consider processing the acquisition of the remaining stocks of those who weren't able to tender their share. Please tell Michelle your name and how many shares you still have as they are listing it down. There's no assurance that SM Land will still buy those but they might use the information (on how many shareholders are still willing to sell their shares) in deciding what to do. Again, there's no assurance that they will buy it but at least give it a try to have your name and number of shares included in the list.

2. Can I still post a sell order to my SMDC shares in PSE?
Answer:
No. Since transacting of SMDC shares has been suspended and SMDC filed for voluntary delisting already. This means SMDC will not be actively participating in the buy and sell transactions in PSE.

3. If I can't tender my shares to SMDC and I can't sell it in PSE, what will I do with my shares?
Answer:
Option #1. Sell it. To whom? To individuals who are willing to buy it from you. It will be your responsibility to look for a buyer and to process the buy and sell manually to SMDC office.

Option #2. Keep it and enjoy the benefits of being a shareholder like receiving dividends. Dividends will be sent to you directly.


I know this is a not-so-good news for those who weren't able to tender their shares but I hope this post enlightened you with how things are going to be. Appreciate your feedback if you have any. Please post comments below.
P.S. Again, for newbies out there who wanted to join the stock market but have no idea how to do it. Do not be discouraged if you aren't knowledgeable enough or you have ZERO knowledge in stock market. There's a club who can help and guide you, and that is the
Truly Rich Club
.
Join
Truly Rich Club
so you can send direct messages to stock market experts. I was able to get information on the contact numbers through a stock market mentor in the club. The club also releases newsletter and stock alerts whether to buy, sell or hold their suggested stocks. No need to worry about researching and narrowing down a list from all the very good companies to invest in. The club does those researches for you. If you want to join the club, just click on the image below: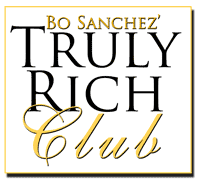 like us on Facebook
Happy Investing everyone! And may success be to you.